Arizona Snakebite: 1,500 Mile 1997 Dodge Viper RT/10 GTS
Why We Like It
With its sinewy roadster body, big side mounted exhaust pipes, and insanely powerful V10 engine, the Dodge Viper SRT/10 debuted at the Detroit Auto Show in 1989 and recalled the purity and purpose of the original Shelby Cobra. Casting the utilitarian K-Car into distant memory, the Viper resurrected Chrysler's once-proud performance heritage. This should be unsurprising since the Viper's creators were Chrysler legends, including company president Bob Lutz and design chief Tom Gale. They envisioned a simple, high-performance "image car", an idea that was also supported by Carroll Shelby, who was acting as a high-profile consultant for Chrysler at the time. The sleek Viper GTS coupe debuted for 1996, based on a showstopping concept unveiled in 1989 to overwhelming public response, prompting Lutz to remark in 1994 that "It's been the positive response from the public that's persuaded us that this car simply has to be built." Far more than a simple coupe version of the original Viper RTT/10 roadster, the new GTS featured a new chassis and suspension, dual airbags, a new steering wheel, power windows, unique wheels, and more. Speeds up to 180 mph were on tap from the improved aerodynamics and thundering 8.0L V10 engine powering the GTS, which scored a succession of racing wins through 2014.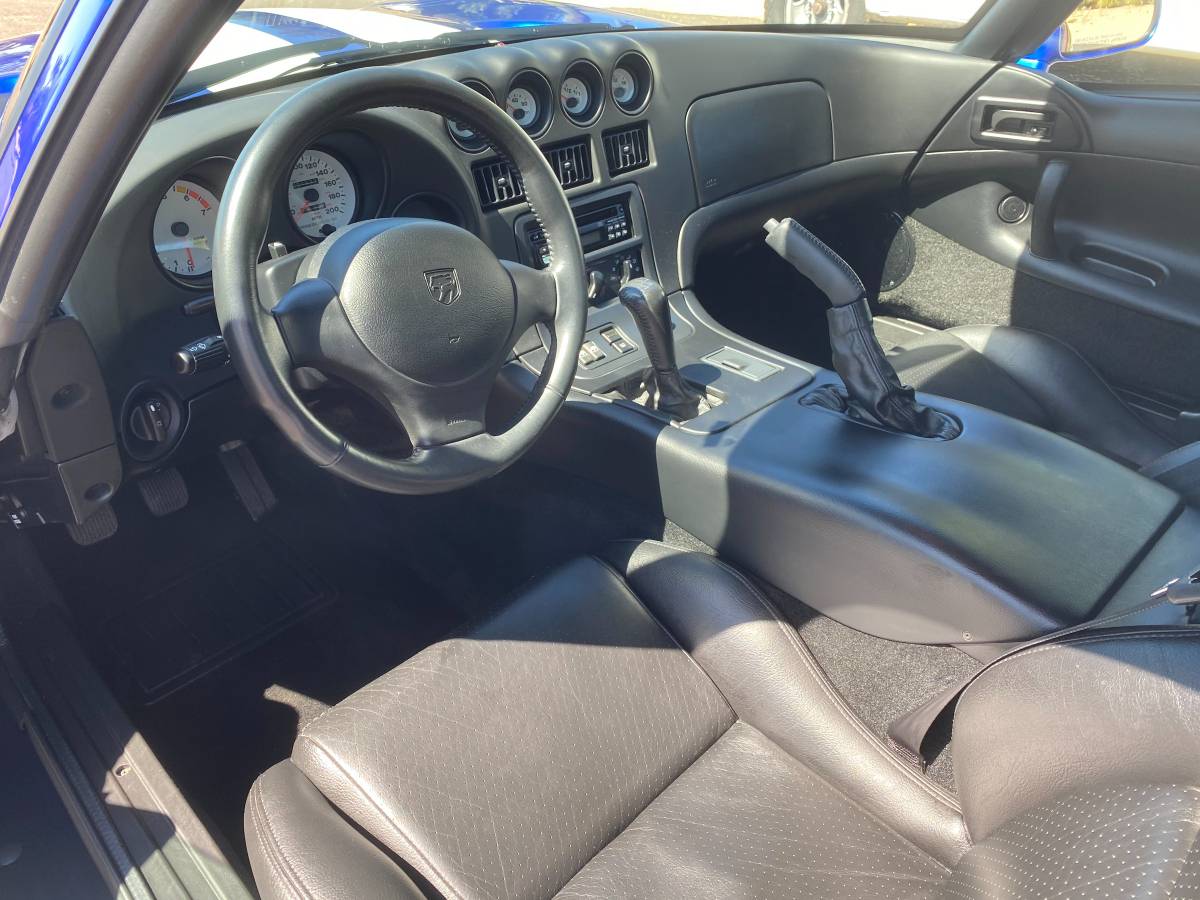 Offered with just 1,524 miles, this stellar Viper GTS was purchased new by T.J. Day, a Nevada civic and business leader, philanthropist, and car collector, and it eventually passed to the seller from his estate collection in 2014. It clearly benefits handsomely from climate-controlled storage from new, most recently in hot, dry Scottsdale, Arizona, and it remains very original, with the only replaced items being fluids/filters, the battery, and an exhaust manifold gasket. There was also a factory recall service performed November 2004 and it has only been serviced by Dodge dealers, with the last one performed 5 miles ago. It now comes to market with all records and documentation from new. When the seller purchased the car, they installed a set of Gen 5 Viper Sidewinder II Matte Black wheels and Pirelli P-Zero Rosso extreme-performance tires, now with just 200 miles of use on them. Both sets of wheels and tires come with the car, including the original tires that came on the vehicle when it was purchased new from Reno Dodge on June 16, 1997. Check out the walkaround video of the Viper provided by the seller, plus a link to over 100 photos illustrating the condition of the vehicle and its documented history, for extra confidence.
Admittedly, this 1997 Dodge Viper GTS is fully valued, with the asking price representing all the money and then some. Listed in Hagerty's latest Price Guide, which pegs these brutal performers at $68,100 for a #1 "Concours" car, this 1997 Viper GTS carries a significant premium. However, with its ironclad history from new, strictly limited owner roster, low, low miles, and general awesomeness, maybe it's time for these cars to rise in value. The premium to published values is not that big, and if you want an early Viper GTS - as some of us here do - this could very well be considered worth it after all. Viper fans and owners, your challenge, should you choose to accept it, is to find a better one. Let us know what you think!
Check out more photos of the car here!