Business Class: 1950 Pontiac Streamliner Silver Streak Sedan Delivery
Why We Like It
Featuring all new and modern body designs for 1949, GM's Pontiac Motor Division maintained its tried-and-true six and eight cylinder engines and focused on enhanced passenger comfort and value for the money. Only subtle revisions were made for 1950, with advertising copy declaring, "Dollar for Dollar, You Can't Beat a Pontiac." Cadillac and Oldsmobile may have gotten most of the headlines of the era with their new V8 engines, but Pontiac's simple philosophy and broad model range quietly garnered buyers and marque loyalists. Their available selection of trim levels and interior appointments were equally wide-ranging and key to the division's sales success during the early 1950s while the models were forced to wait for a new V8 engine until 1955. Sedan Deliveries were still part of Pontiac's lineup with the 1949 redesign, for businesses needing a classy delivery vehicle with rock-solid reliability and a nice, conservative image. Perhaps this down-to-business ethos helps explain why relatively little information exists on these sensible postwar American cars today compared to so many other competing marques of the era.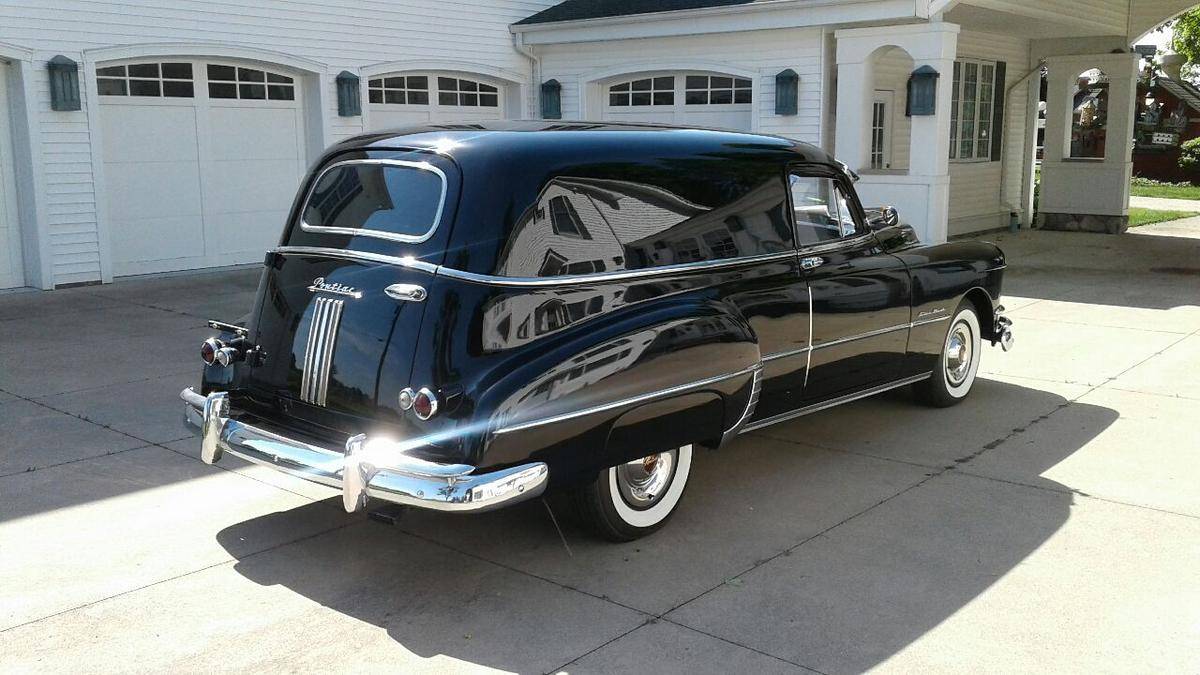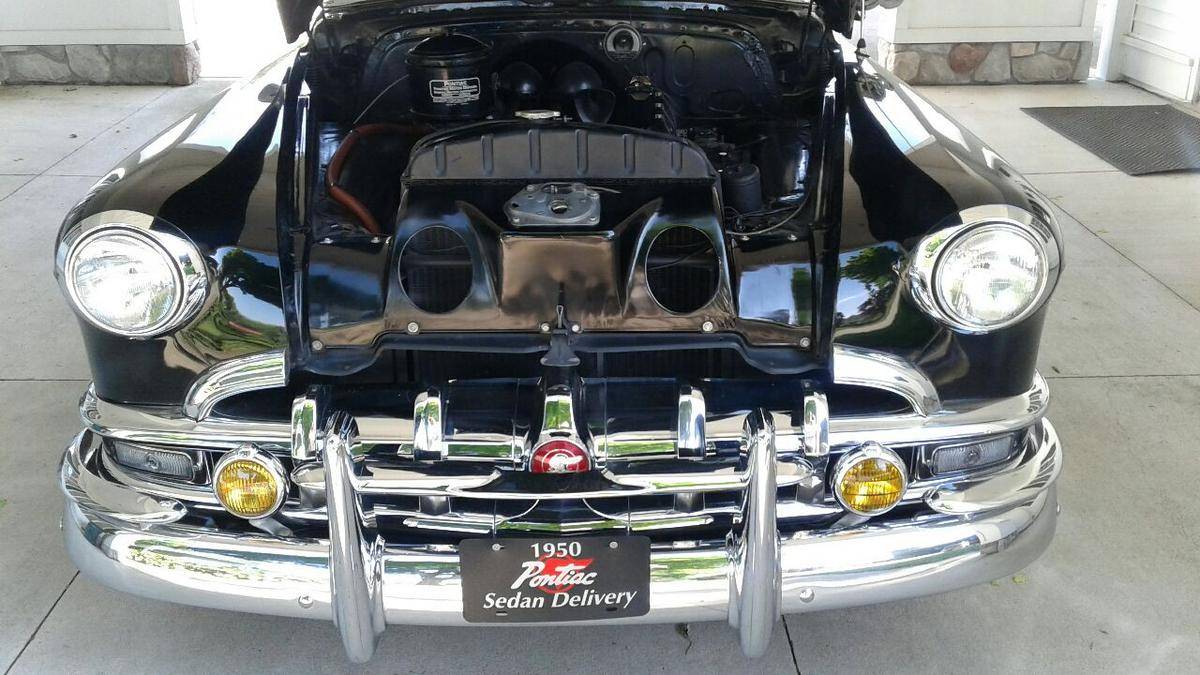 Written details are few in the online advertisement, but this 1950 Pontiac Sedan Delivery is a captivating, show-quality example of these sophisticated commercial vehicles in upscale Silver Streak trim. According to the seller, it is a 53k original mile vehicle in excellent restored condition, and from the online photos, we'd have to agree with their statement of its overall condition. In addition to its very nice visuals, the car's equipped with a selection of desirable period accessories, among them a steel windshield visor, fog lamps, and rear-fender skirts, plus full "sombrero" wheel covers and wide whitewall tires. Curiously, it is impossible from the photo selection to determine whether it is powered by a six or 8-cylinder engine, or whether the transmission is a manual 3-speed or Hydra-Matic, and no interior shots are posted, either. But it sure does look attractive on the outside, and hopefully further information can be provided by the seller to round things out.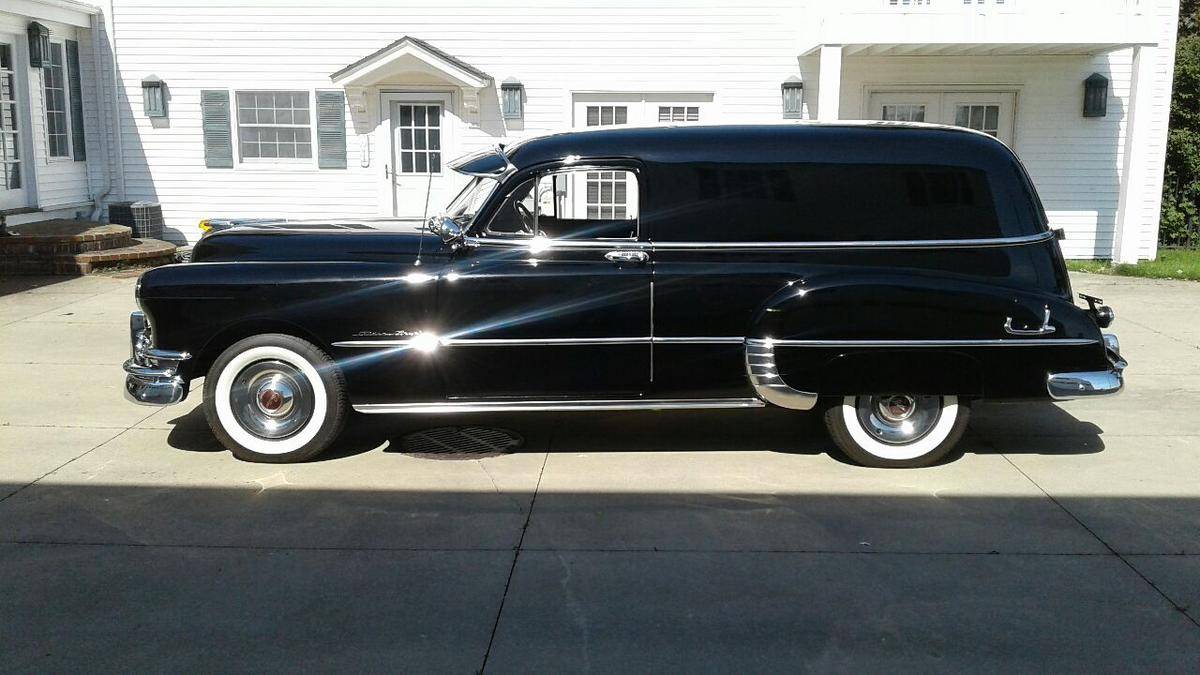 A quick review of the current Hagerty Price Guide seems to reveal that the Sedan Delivery was part of Pontiac's Streamliner model line for 1950, which replaced the former Torpedo. If correct, then this vehicle may very well be powered by Pontiac's durable, if not dragster-worthy 258ci inline eight-cylinder engine. It is still unclear if the Sedan Delivery was a one-year-only Pontiac model, and perhaps members of the POCI (Pontiac-Oakland Club International) might be able to lend their knowledge to further this discussion. Regardless, Hagerty's values for this model range from $6,300 for a #4 Driver to $18,200 for a #1 Concours example, with a 15% deduction for six-cylinder cars. Restoration would put someone underwater from a financial standpoint from the moment the first bolt is loosened and therefore, depending on how you look at it, the seller's asking price could either represent a semi-reasonable buy with all the hard work already done, or a very stiff proposition. Also, the seller owns the 1952 Pontiac Chieftain DeLuxe 8 'Tin Woody' Wagon we featured back in June, so at least he's got good taste all around! Nevertheless, it has plenty of eyeball, and considering its rarity it could be the right outlier for a buyer who has the money and fondly recalls seeing one of these classy haulers back in the day. We think it's worth the premium, but let us know your opinion!