Finned Fifties Soft-Top Survivor: 1958 DeSoto Firesweep Convertible
Why We Like It
Is there a more ostentatious production car than a late 1950's American convertible? Sure, there are lime green Lamborghinis and Rosso Corsa Ferraris, lavish luxury limousines from Rolls-Royce and Bentley, but they all show a modicum of restraint in their styling, penned by purpose rather than the massive, brazen excess the Big Three were all putting out in the 50's. And while the Cadillac Series 62 and Eldorado, Chevy Impala, Lincoln Continental and Ford Fairlane convertibles had plenty of flare to spare, Virgil Exner's "Forward Look" Chrysler design program was as wild as it got, and the 1958 DeSoto Firesweep is arguably furthest on the wacky spectrum.
But in our opinion it was crazy in a good way, maybe the most representative of the period for all its extravagance. That said, by the end of the decade many – including company executives - felt the design direction had jumped the shark, and DeSoto was first up on the chopping block for budget cuts at Chrysler. Consequently, while the DeSoto brand continued to limp into the 1960s, the Firesweep was a one-year-only production model, with only 700 produced. Of those 700, multiple articles and old comparable listings regularly reinforce that only 12 are known to still exist. That perceived rarity has caused documented sales prices to continue to rise (especially after 2014), the most recent being two restored examples at Russo and Steele (a black one for $115k) and Leake (a red one for $170k) at the January Scottsdale auctions this year.
If there are in fact only 12 remaining, then this example is likely as remarkable as the seller suggests, described as a survivor that's been correctly improved only when necessary and only with NOS parts and materials, rather than one of the many (or eleven other…) restored examples. Its history appears to be documented, and the interior, brightwork and glass are all in amazing condition. The seller claims the paint to be original, save for a front fender and the red "firesweeps" down the side. The undercarriage is described as solid with original undercoating, and the owner makes a point to note the rear fenders are dry and original as well. The car retains its factory, 70k mile 5.7L 350ci V8, which isn't surprising when you look at the untouched, and un-detailed yet tidy engine compartment.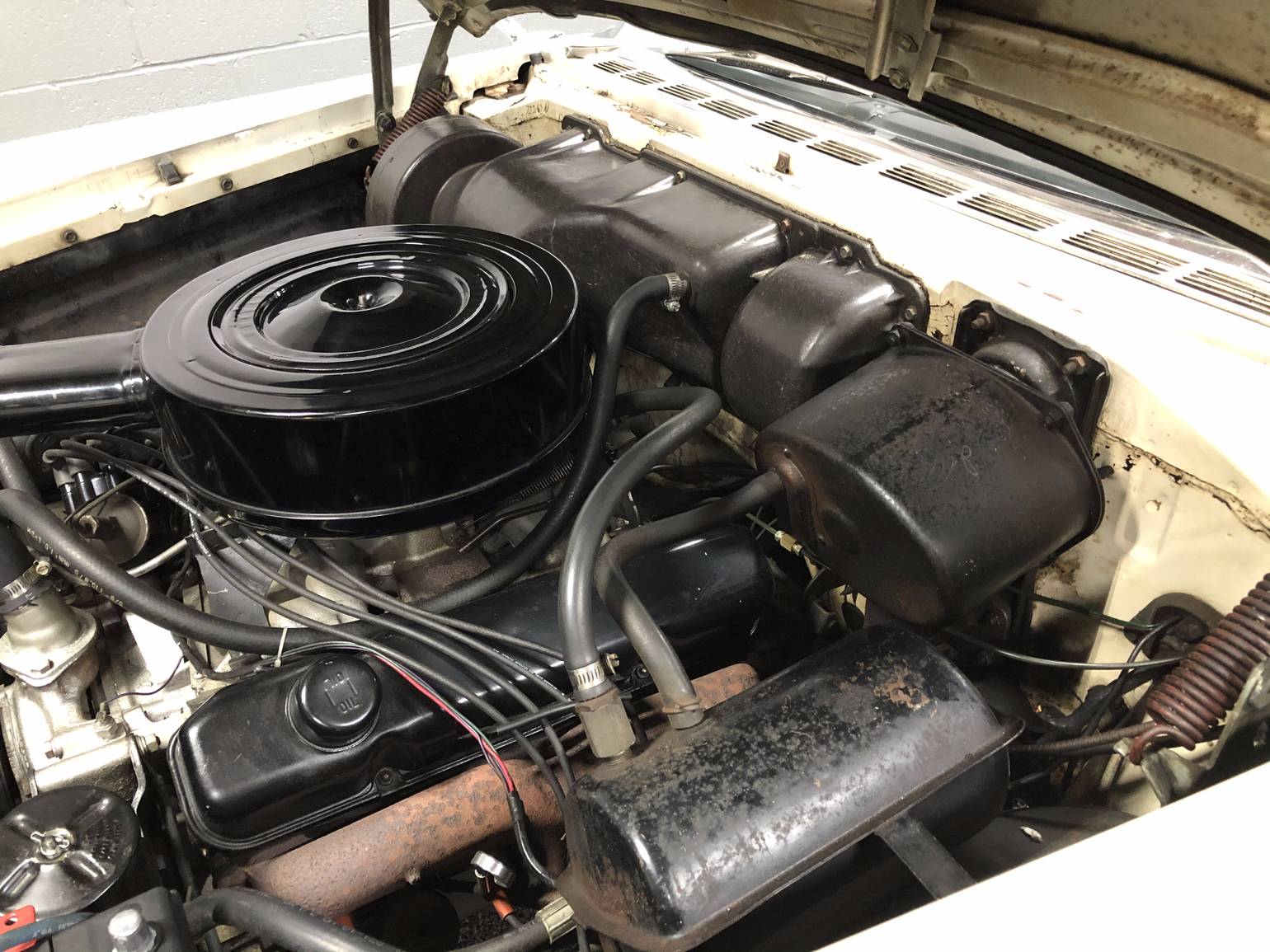 We especially like how the wild design is offset by the understated white on red color scheme, and we're always suckers for "only-original-once" survivors. Compared to the other Firesweep convertibles out there, this one may very well be the most original one remaining, and in theory that might justify a premium price, but we think this the seller's reaching a little on this one. Hagerty has a #1, "Concours" condition valuation at $172k, with #2, "Excellent" condition cars at $103k, and while this one is priced in between, in our opinion the car's condition is even a hair over #2. So that begs the question – does the survivor status of this car demand that theoretical premium? We think it's worth something, but probably only half (or less) of the difference between Hagerty's #2 number and the list price. It's not 100% original, it's been traded between collectors four times, and while very nice, it could probably use more attention than the photos divulge. It is however listed OBO, and if you've been looking for a Firesweep convertible you're probably not going to get many more chances on one this original.