New 22RE on 93k Mile Chassis: 1986 Toyota 4x4 Pickup 5-Speed
Why We Like It
This 1986 Toyota Pickup is a fourth generation US-spec model, which were called the Hilux in the rest of the world's markets. They were built in the legendary Tahara plant in Aichi, Japan before Toyota started producing trucks in America, and represent a sweet spot in production quality and design throughout the entire Hilux production run dating back to 1968. These fourth gen trucks were powered by the 22R inline four-cylinder engine until 1985, when the fuel injected 22RE version became an option.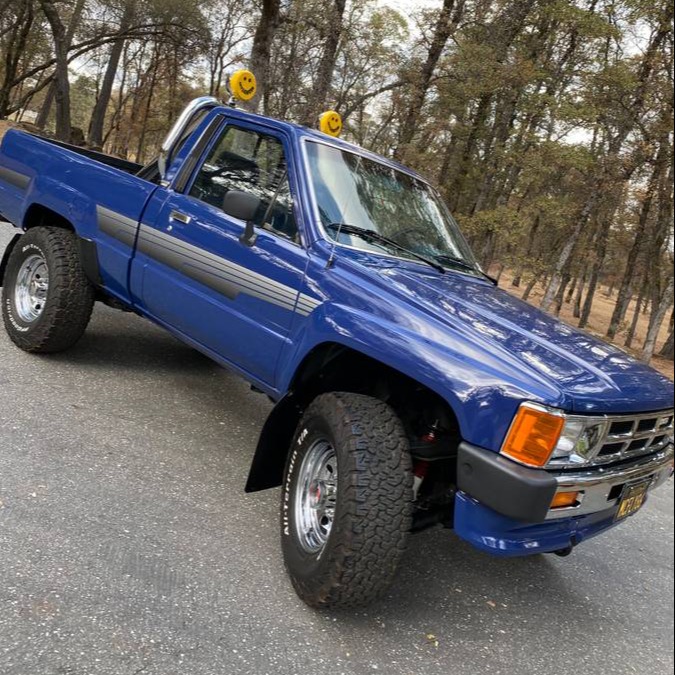 Medium Blue (8A1) always looks good on these '80s pickups, especially with factory graphics, and although there is no mention of a repaint by the seller, based on the condition of the rest of the truck, we wouldn't doubt if it was the original finish. A chrome roll bar with KC Daylighter lights has been added at some point to give it that Marty McFly dream truck vibe, which goes with the clever repro CA black vanity plates. A bedliner has been applied, and we're kinda diggin' the newer BFG All Terrain T/As wrapped around aftermarket chrome wheels. The original blue interior looks extremely well preserved, aside from a poor installation of a Blaupunkt cassette radio.
Although the seller provides very little information in the listing, one important tidbit that he mentions is that the truck received a new factory 22RE engine 300 miles ago. It's very strange to see the rugged 22RE replaced with only 93k miles on the odometer - not sure what happened there - but we're not complaining because this thing is now essentially brand new.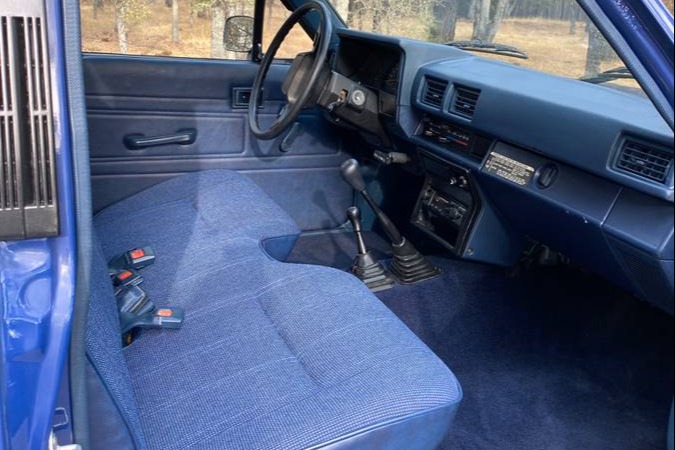 Prices for these iconic pickups have been on the rise for the last five years, along with all vintage off-road vehicles. We regularly see very good, low mileage (anything under 100k miles) fourth gen trucks sell in the high teens to $22k, and extremely low mileage SR5 models can go for even more. Given that this one does not have the original engine we think it should fall on the low side of fair market value, but the seller has priced it a solid $10k over that amount. Maybe he's leaving room to negotiate, or maybe he's making up for the outrageous dealer price he was charged when he purchased it in January 2020, we can't say for certain. One thing we are sure about, though, is that this truck is awesome and if the next buyer can talk the seller down to a reasonable amount, they will be very happy indeed.
"Lookin' out for #1."