Rare in Centennial White: 4,200-Mile 2006 Ford GT
Why We Like It
The Ford GT is an icon of modern supercars and is perhaps the most desirable, and expensive, American made sports car in this millennium. There have been some Corvettes, Shelby Mustangs, and Dodge Challengers produced that have more horsepower, but none have the good looks, the historical provenance, the mid-mounted engine location, and the unique design of the GT.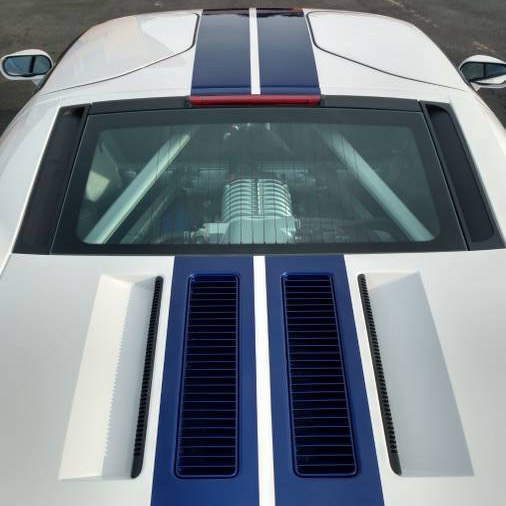 This GT is one of 222 finished in Centennial White Clearcoat (WT) out of a total of 2,011 produced in 2006. We love the factory Midnight Blue racing stripes and side stripes with Ford GT script as well as the stock forged aluminum wheels over optional red Brembo brake calipers.
The basic interior features leather-trimmed seats designed by Sparco and cool retro-styled gauges with a centrally located tach and 220-mph speedometer on the right side of the cluster. The black upholstery is contrasted by aluminum trim, and the car is equipped with the optional McIntosh sound system.
The meat and potatoes of the Ford GT is the mid-mounted all-aluminum 5.4L V8 that utilizes an Eaton 2300 supercharger. The engine puts out 550 hp and 500 lb-ft of torque to the rear wheels and is mated to a Ricardo 6-speed manual gearbox with a helical limited-slip differential. The seller mentions that a Stillen exhaust system has been installed.
It seems that all of these GT cars that come up for sale have been minimally used, and this one is no different with only 4,200 miles on the clock. Market value has steadily risen over the last decade, even more so since the second gen Ford GT was introduced in 2017. We continually see very low-mileage examples sell in the low to mid $300k's, with the limited Heritage Edition selling for close to $400k. This one is priced a bit high for a 4,200-mile car, but the rarer color and excellent condition make it worth it in our eyes.