Rodger Dodger: 46k Mile 1987 Dodge Ram Pickup
Why We Like It
As children of the '70s and '80s, we at Zero260 have a soft spot for examples like this immaculate, 46k mile, Light Blue/Light Blue 1987 Dodge Ram Pickup. A final generation D- Series (not a bad 30+ year run!) rig, it makes us nostalgic for when trucks still had steel bumpers, wheels, trim, mirrors and a soul – not much plastic on these bad boys.
The interior is maybe the cleanest we've ever seen on a D-truck, clearly installed back in a time when things were actually intended and built to last. No cracks in the dash or rips, tears, or stains on any of the seat materials (durable scotchguard cloth and vinyl), the carpeting or the interior panels. The steering wheel and faux-wood instrument surround are showroom flawless and the pedals look brand new – not a guarantee, but certainly a requisite sign of low-mileage, which the CarFax report / records confirm.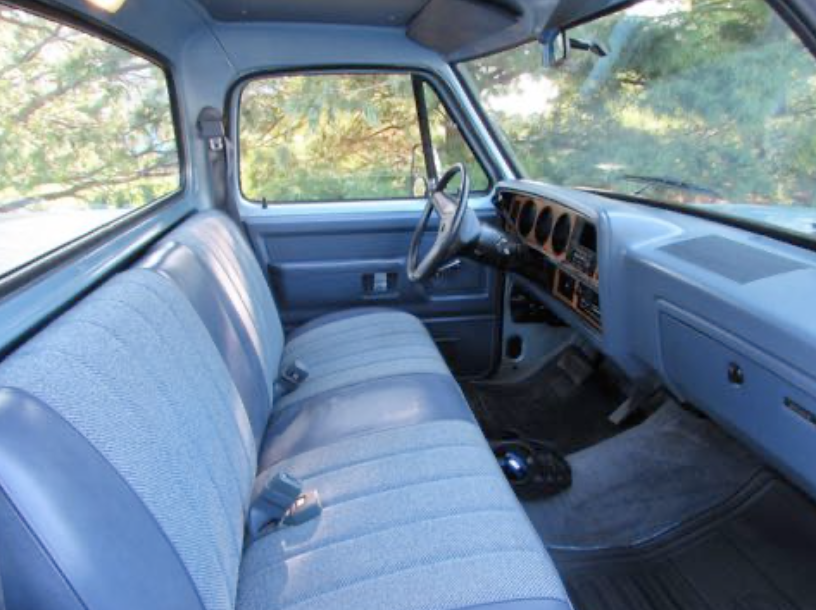 The exterior is equally as impressive with no visible dents, dings or scrapes in the paint, glass or wheels. The seller claims it just came out of 16-years of climate controlled storage.
Apparently the 318 cubic inch 5.2L V8 was started monthly, serviced regularly despite limited use and everything works as it should, including a smooth shifting automatic transmission. Unfortunately there's no A/C, and we'd really like to see a photo of the engine compartment, but our guess is that it's likely as clean as the rest of the truck, indicative of its low mileage and something we don't see a lot of in one of the best built, most practical rigs of its generation.
Dodge trucks definitely have a following, but their relatively limited production compared to their Chevrolet/GM and Ford competitors had left them somewhat forgotten. Is their comparative rarity reflective of a lesser product? Or is it the justification for a better valuation in the years to come? What say you, Zero260ers?
At $10,900 this D-Truck may not be the cheapest one around, but it's definitely one of the nicest, sure to go up in value with continued limited usage. But in Zero260's humble opinion, this'll never exactly be a museum piece, although it's one hell of good deal on a clean, reliable daily or semi-daily driver whose no-nonsense utilitarian styling demands some well-earned respect.