She's Real Fine: 1962 Chevrolet Impala 409/409 Sport Coupe 4-Speed
Why We Like It
While Chevrolet's "Tri-Power" 348ci V8 was the scourge of America's dragstrips and a tough performer on NASCAR ovals during the early 1960s, heavier artillery was necessary to keep ahead of the competition. Dubbed Regular Production Order (RPO) 580, additional firepower for the faithful came on December 17, 1960 – the first of Chevy's soon-to-be fabled 409ci high-performance engines. Designed with all the right stuff built right in, the new 409 looked like its predecessor, but was based on an entirely new engine block, and it was released alongside Chevrolet's new 'SS' Super Sport appearance option, giving full-size Chevrolets more than enough power to back up their new, performance-oriented persona. Early 409s were earmarked for NASCAR first, and drag racers were forced to wait for the new engines until after the Daytona '500' was completed. Top Chevy drag racers, including Dave Strickler and "Dyno" Don Nicholson built their reputations with the legendary 409 and it soon became a pop icon as the subject of the Beach Boys' 1962 hit song "409." Racing and hard street use claimed many 409-equipped Chevrolets over the past 55 years and good, solid examples are always in demand today.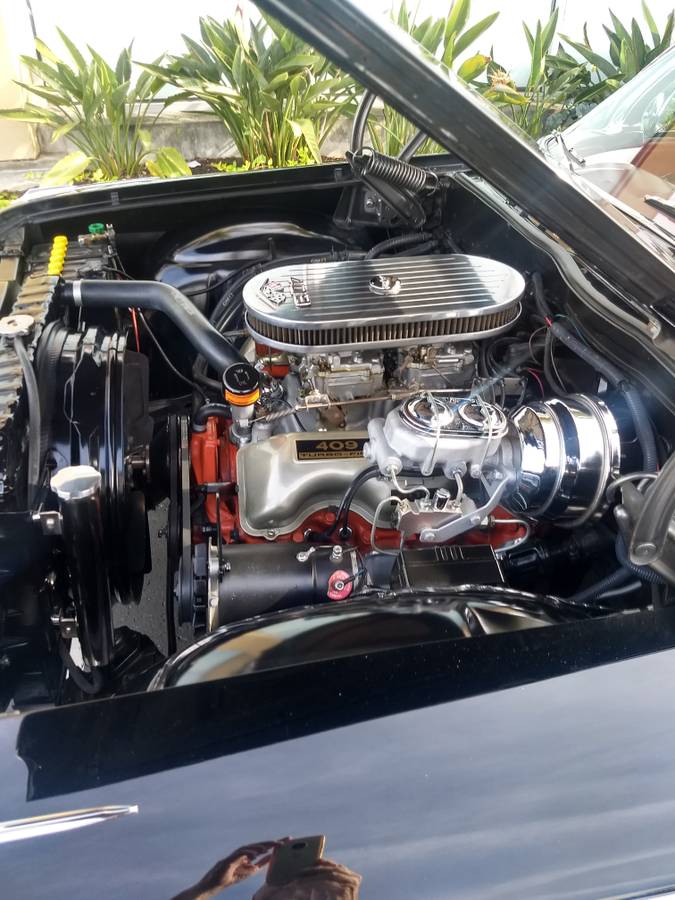 Featuring a legendary 409 V8 with 409 rated horsepower and proper 1962 date code and the telltale 'QB' code denoting it left the factory with a manual transmission, this 1962 Chevrolet Impala carries the unmistakable vibe of a hot 1960s street machine. Riding on a set of steel wheels mounting clean, chrome "baby moon" hubcaps, this Impala is an original Code 950 Tuxedo Black car that left the factory with a white roof finish and Code 874 red interior. The 409/409 motor was cast on January 18, 1962 and is the product of Chevrolet's "Number 1 Team" at the Tonawanda, NY engine plant – Chevrolet's only 409 engine plant back in the day. The seller advises that the carburetors are original dual Carter AFB four-barrels and the engine is equipped with upgraded Pertronix ignition and ceramic-coated exhaust manifolds feeding a dual exhaust system with a crossover pipe and Flowmaster mufflers. A later-model Muncie M21 4-speed manual transmission sends the 409's power to the street, while handling is tightened with KYB gas shocks and braking is improved with power front disc brakes as well as old-school mechanical water-temp and oil-pressure gauges monitoring vital functions. The seller states the Impala retains original, corrosion-free sheet metal and the car is in superior overall condition with correct seats, carpeting, door panels, headliner, sun visors, and rubber floor mats. Modern amenities include a remote sound system that is discreetly mounted underneath the front seat and security provided by Lojack. Period style T-3 headlights and correct year-of-manufacture yellow California plates round out this cool performer.
The mighty 409 was available on virtually any full-size Chevrolet when new and total production is not known, compounded by the 409's availability in several levels of tune from the factory. Having said that, Hagerty currently values a 409/409 Impala 2-door Sport Coupe from $46,800 for a #4 Driver to $117,00 for a full-on #1 Concours car, making this clean, well equipped Impala a relative bargain for the asking price. If you're looking for a hot early-1960s muscle car with classy good looks and thoughtful upgrades for an enjoyable drive and plenty of passenger space for friends and family, take a look at this 1962 409/409 Impala before it's gone!